Get your hands on the Gspa W pedicure chair and impress all of your customers with the sleek design, comfortable leather, and the footbath that will enhance the salon experience. As an extra, you can get the VersaTray kit – a package containing a UV light, movable tray, and even an iPad holder to keep clients entertained during treatment.
Choose the perfect design for the chair depending on your salon's interior. The laminate comes in a bright gloss white, a dark Colombian walnut, and a lot of other colours. You can even choose the colour of the chair's leather and the foot basin.
The exceptional ANS Gspa W Pedicure Spa features luxurious amenities, attention to detail and superior craftsmanship. This beautiful and modern pedicure spa is designed and assembled here in the USA and is made using quality wood components.
The ANS Gspa W is available in multiple color options that make each spa unique and customized. Each ANS Gspa W is made-to-order by our expert carpenters following your details and specifications. The ANS Gspa W is also ETL-certified for safety and is carefully tested by trained technicians before leaving our location.
_______________________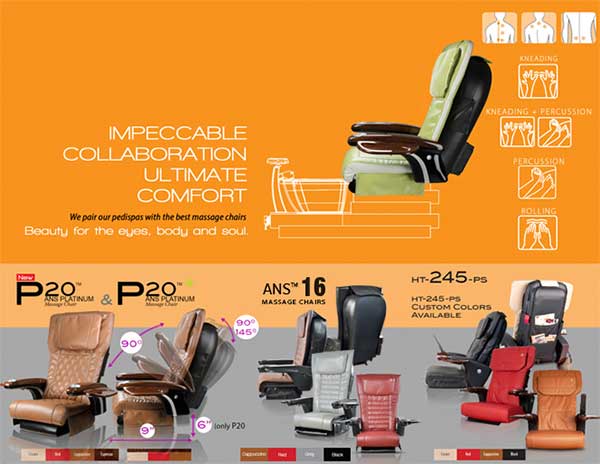 The ANS P20+ is modern pedicure massage chair that increases comfort and improves relaxation. The PLUS difference is in the chair's unique LIFT engineering.
Unlike most massage chairs, the ANS P20+ is capable of lifting 6 inches from its base to provide extra leg room for tall customers; very convenient feature for busy salons that want to offer maximum comfort to their customers.
The ANS P20+ Massage features soft, stain-resistant PU-leather. Each ANS P20+ is equipped with an advanced massage mechanism that includes auto and manual programs for kneading, percussion and rolling massage.
For extra comfort, the ANS P20+ reclines from 90 to 130 degrees, and moves back/forth up to 7 inches. For convenience, this luxurious massage chair includes an embedded control, purse hangers, cup holders, and back storage pocket.
________________________
The ANS P20+ also adds a touch modern functionality with 2GB of MP3 storage. Upload your favorite songs and let your customers enjoy your best playlists. Even more, the ANS P20+ resists chemicals and acetone to give the chair a longer lifespan.
For convenience, the ANS Gspa W has removable side panels for easy access to the interior of the pedicure spa.  Each pedicure spa also comes equipped with a powerful ANS Liner Jet for a soothing whirlpool effect.
The ANS Gspa W features a glass sink bowl of the color of your choice; an adjustable waterproof, chrome footrest; an easy-to-control, front-mounted faucet; a pullout, multifunction shower head; front drawers; side trays; an embedded LED light color therapy; free matching pedicure stool.
Each ANS Gspa W includes a genuine Human Touch Massage Chair. Human Touch massage chairs come in a variety of colors and are made with soft, marine-grade leather.
Human Touch is the #1 massage chair brand in the USA and is featured in thousands of salons nationwide.
One-year warranty.