Haven't you heard? The mermaid nail designs are making a comeback! It isn't about painting the face of Ariel on the nails. Enough of the seashells and starfishes from the marine world. Time to welcome a new glam. This nail art is about painting a cute coral mermaid scale design on the nail.  Follow the step by step tutorial below to recreate the sparkly nail art:
Full Coral Mermaid Scales Nail Art: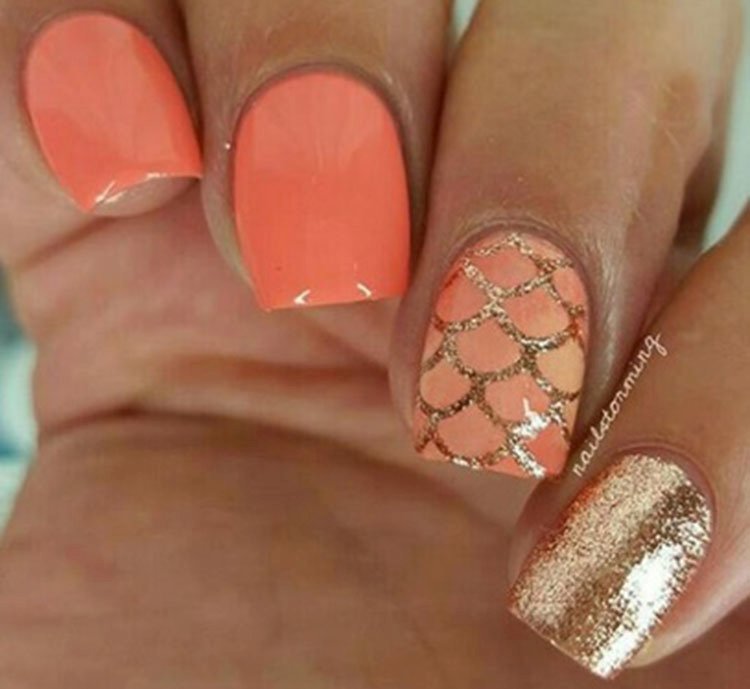 The color scheme is yet again your choice to make. But do make the scales with a glittery nail polish because it best depicts the shiny scales from the mermaids bodies. This tutorial follows a color scheme which is different from the regular sea colors.
STEPS:
Take out the clear base coat and apply it to your nails.

Select a combination of base nail color and a glitter nail color that'd you'd like to use. For this nail art, glittery golden nail polish and peach nail color is used.

Paint each nail color on all your nail except the index fingernail.

Apply a second coat of peach nail on the nails except for the middle fingernail.

With the help of detail, nail art brush draws the mermaid scales of glittery gold nail polish on the middle fingernail. Keep the inverted "3" in mind and mimic from the picture given.

Apply two coats of glittery gold nail polish on the index fingernail.

Complete the nail art by applying top coat at the end.
This is a simple and neat nail art inspired from the mermaids. The little mermaid takes over the hearts of many. If you have been the biggest fan of Ariel and her friends in childhood then what are you waiting for? Get your nails painted in the coral mermaid scales!