Most of you would be unfamiliar with the idea of nailstorming. Well, it's no less than the idea of brainstorming. Just like you use your brain to come up with some superb innovative ideas, in the same way inventing a completely unique nail art design would be called 'nail storming'. It is similar to opening up a way to a new secret nail art venture. From the fairy tales to cupcakes and glorious sketches, anything that blows your mind away with a wide assortment of colors on each nail is what nailstorming is all about. Some of the best nailstorming ideas are those in which each nail has a different story to tell, just like an every page of a storybook has a different scene. Check out the nailstorming idea below:
Full Nailstorming Nail Art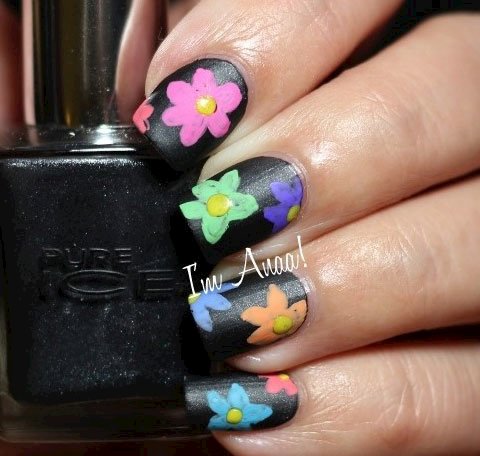 You must have seen the chalk flowers on a chalkboard. This nailstorming depicts those flowers. This one is for the beginners, who are willing to put their efforts in nailstorming. Keep your hand loose and free while recreating it and don't hesitate to use as many colors as you want to.
STEPS:
Firstly, apply base coat on all your fingernails.

Apply a coat of black nail color on each fingernail.

For a finished look and eminent color, apply a second coat of black color on each fingernail.

Once black nail polish dries, take out your favorite pastel shades nail polishes. Here, pink, yellow, sky blue, mauve, orange.

Using these five various colors make flowers of different colors on your nails (refer to the picture) with the help of a striper brush.

Once the art dries, apply top coat for smooth and glossy nails.
Once you're done with nailstorming your nails, the vibrancy and colors in disguise will leave the essence of refreshment in you. Don't believe it? Then try out yourself!