Summers in the tropical brings in the trend of beach wave hairstyle, never ending beach trips and lots of bright colors. Just like that welcome a warm and exquisite tropical floral nail art with chevron stripes. The step by step tutorial will help you do your nails.
Full Tropical Floral with Chevron Stripes Nail Art: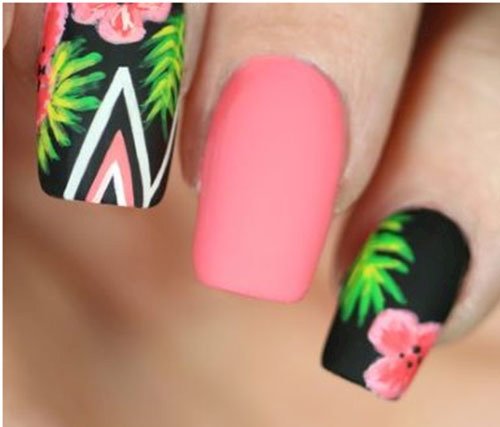 Since it's a tropical and floral nail art, the colors used must be vibrant and full of endless spirit. You're free to alter the floral pattern and the leaves.
STEPS:
Apply a clear protective base coat on your nails first.

Select the nail colors you'd like to use. In this tutorial, matte nail colors are used; black, white, two shades of pink and two shades of green.

Paint matte black nail polish on each of the fingernails except ring fingernail.

On the ring fingernail, paint over matte soft pink nail polish.

Use a detail and striper brush to continue the following steps.

Paint chevron stripes with matte white and soft pink nail polish at the tip of a middle fingernail. (refer to the picture)

On the same nail, paint a plus sign with matte soft pink and then modify it further into four petals. In the middle of it, put strokes of white and dark pink matte nail color. Also, paint four dots in the middle using dotting tool.(refer to the picture and mimic it)

Similarly draw the flower on the small fingernail too.

Using a lighter green matte nail color paint palm leaves on the middle and ring fingernail and give strokes of darker green matte nail color above it. (refer to the picture)

Finish off with a matte topcoat.
This is an everyday flowery nail art, something you should consider in the spring season. Once you're done painting your nails, do go out in the garden and admire the evergreen greenery. Don't forget to steal glances to your nails too!