Nothing is better than rejoicing the patriotic moments of an independence day! The sound of the national anthem, the printed outfits inspired from American flags is all that makes your 4th of July. But what about the nails? Aren't the American beauties out there interested in finding out about a flattering nail art exclusive for boosting the American spirit? Here's  a perfect fit for you all. Glitter, flag colors, stars, and stripes; nationalism and creativity all in one. Check out the guide below for this patriotic nail art:
Full Glitter American Flag Nail Art: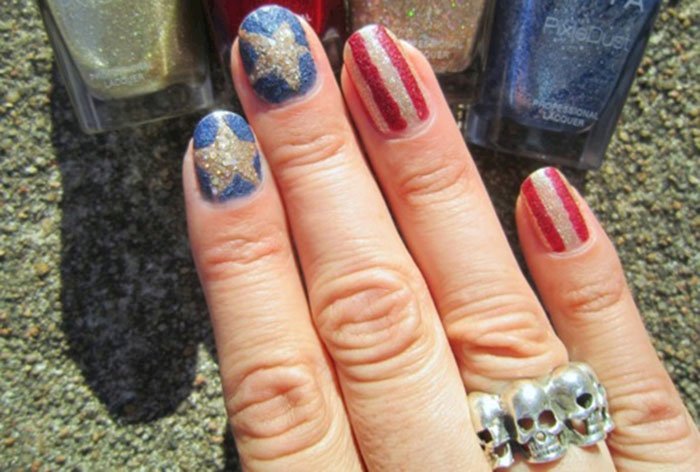 This is a sparkly patriotic design, meant to make your 4th of July of every year a special one. The combination of colors looks truly amazing because of the spark of glitter. Get ready to give your nails the feel of patriotism too!
STEPS:
Before starting this glittery nail art, apply a protective base coat on your nails.

Wait for it to completely dry. Since it's an American flag nail art, you don't have much of a choice in colors. However, the shades can vary.

Paint your small and ring fingernail with glittery silver nail polish.

Paint your thumb nail, middle and index fingernail with glittery blue nail polish.

Now using a striper brush draw a star on the thumb nail, middle and index finger nail with glittery silver nail polish such that its corners meet the sides of the nails. (refer to the picture)

Paint two stripes on the small and ring fingernail with glittery red nail polish.

Wait until the nail paints completely dry, before moving on to your next tasks.

If you feel there's a need of a top coat, then proceed to do so. (if you have used textured glitter nail polishes then don't use a top-coat, or the texture will be ruined)
You'd surely love your nails speaking of a glittery American flag! The shiny stars and the glittery stripes are portraying a classic version of American patriotism. Do try out this easy glitter American flag nail art!