STEP BY STEP PINK ROSES NAIL ART
Nail art is not an innovation anymore, yet its fame and charisma don't seem to be fading at all.  It is an interesting way to paint and decorate nails. Nail art can be done on toenails as well but are more famous for finger nails.  It is better to shape, trim, and polish nails by manicure and pedicure before nail art. Nail art is trendy among ladies of both Western and Eastern origin. Nail art has seen a lot of diversity in its designs and techniques.  The various methods include painting with brushes, sponging, stamping, using tapes, digital nail art, etc.
PINK ROSES NAIL ART:
Pink is the color of femininity and roses always attract women for being a symbol of love, compassion, and thankfulness. Pink Roses nail art is a lot easier to make than it seems to be.  No matter how you do it, it always looks cute and attractive, even if you mess it up a little.
For pink roses nail art you will need following things:
         Clear Base Coat

         Nail Polishes;One nail color for the base (light green or any other light color of your choice), pink nail colors (light, medium, and dark) for rose petals, and green for leaves.

         Dotting tool

         Thin nail art brush.

         Clear Top Coat
PROCEDURE:
      Start off by applying a good base coat, so your nail art remains for longer, and your nail remains protected from all the chemicals.

      Paint your nail with a light color to give your roses a base on which they will pop up due to the contrast in color.

      Make two or more circles as the base of the roses by using the dotting tool.  Use the lightest of the pink nail color. Circles don't need to be perfect.

      Take nail art brush and shade the roses with medium pink nail color.Make half circle stroke from the center to the outside of the flower.

      Repeat the step 4 with dark pink nail color but don't overdo it.  All the three shades of pink should be visible in the roses.

      Add some green leaves on the corners of each pink rose.

      Paint a layer of the top coat to finish the look.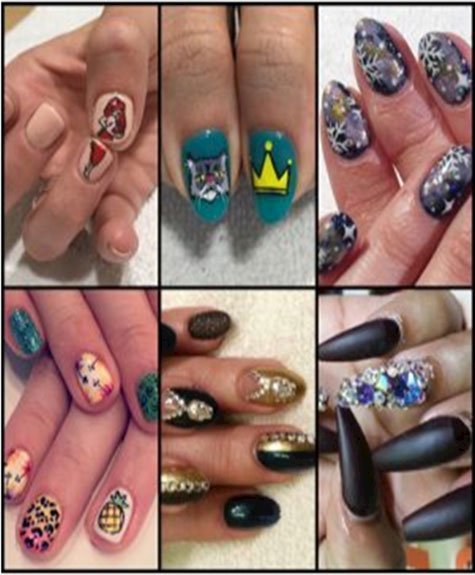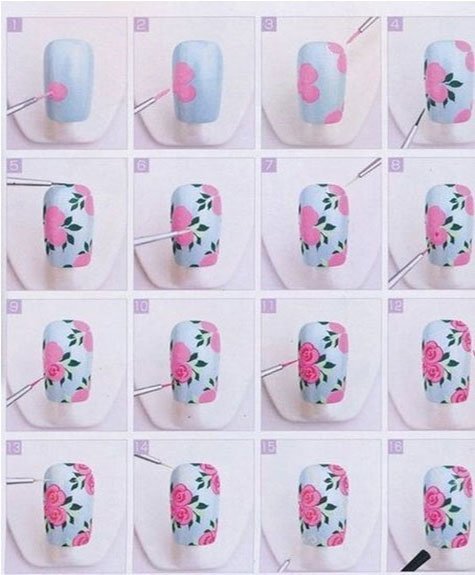 Nail art is an old tradition that has gotten a revival due to a multitude of shades and nail tools available to ordinary people.  Nowadays pink roses in nail art are sought by young girls because it's easy to make yet looks quite intricate.  With the help of some nail art tools, you can give your pink roses many shapes and shades of your choice for your gorgeous nails.