Rose Gold is the new white in wedding themes this day. Stating that it's the newest sensation is the nail art designs is also correct. People are bored of intricate designs too. It's time to explore other trending nail art designs like that of 'rose gold chrome'. Nowadays, the chrome powder is bought as an additive with the nail kits. Check out the steps below for gold-leaf resembling rose gold chrome nail art:
Full Rose Gold Chrome Nail Art: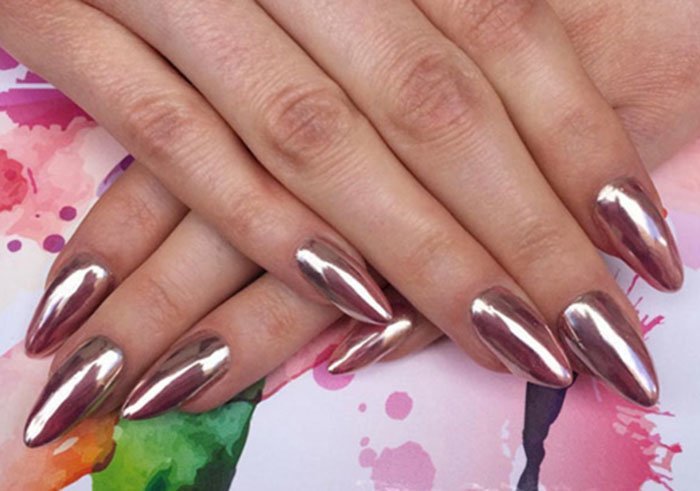 It is simple yet ultra femme and little edgy. There's not much to do in it. You only need the right set of materials and a pinch of patience while you do it and that's it.
STEPS:
Even if it's a chrome nail art, you'll still have to apply a protective base coat on your nails.

To create a rose gold chrome effect, you'll need a hot pink base nail color.

Rose red nail color would do. It could be of any shade.

Paint an even layer of rose red nail polish on your nails. If you think a second coat is required then go ahead.

Use an eyeshadow brush or silicone brush to generously apply chrome dust on your painted nails. Shake off excess chrome powder.

Paint over a thin layer of high shine top coat onto your nails.

Wait for a while for to admire the rose gold chrome nails of yours!

If there's chrome dust stuck around your nails, it'd come off with soap and water.
Rose gold chrome is one of the most wanted nail art looks because of its elegant reflective and metallic finish. Also, it is the only girlish color left after baby pink. Whether it's your friend's summer wedding or a lunch at grandma's, you can inspire every eye in the room with your rose-gold chrome nails. Be the trendsetter!