Because of the cold – dry weather or directly use the chemicals, the epidermis around as well as the nails would easily be vulnerable. With this kind of skin epidermis, your nails seem to be uglier or even make you feel painful. Therefore, nails and its surrounding care are very essential to be beautiful and healthy. Almond oil is the best choice for nails problem, such as being dry or broken. Almond oil is the most effective treatment to nuture and moisturize the nails. With big amount of vitamin E ( anti – oxigen ingredient), almond oil prevents cuticle from not being peeled and dry; morever, vitamin E also stimulates quick nail growth, goes against skin vulnerability, aging and skin problems.
Although there are many different kinds of making soft for cuticle from various companies, the result is only temporary. If you want to take care and effectively treat your dry skin epidermis problem, you should use the almond oil. This oil's effect would help you nuture your skin, while vitamin E is very beneficial for deeper levels of the skthe in around your nails.
How to get the right almond oil?
First, Almond oil should be cold pressed to get the market quality. It is because this oil is burnt in process and would be lost some valuable things while being removed.
The true Almond oil should not get the special smell. Some comestic companies add the smell to make customers believe that this oil is natural. But this work can hurt the sensitive skin or cover the putrid almond. Therefore, you need to avoid smelling almond oil.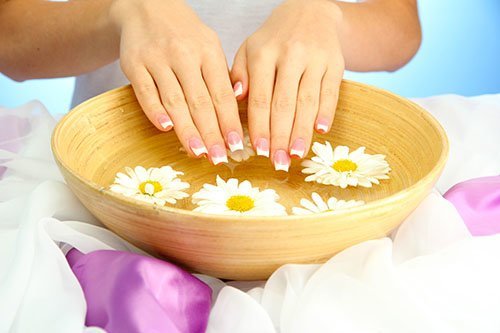 How to use the Almond oil?
Before applying the oil to the nails, it is assured to have a non – polish nails as well as other chemicals. You can pour a small amount of this oil to the palm and gently massage your full hand's skin and your nails, your epidermis. This is to absorb the oil faster.
For the heavily damaged nail, you can soak the nail into almond bowl within 2 minutes. It will apply to your nails quickly. With the redundant oil, use that to massage your hand.
Another way: you can use a cotton pad to soak into the Almond oil, then rub your nails. All your nails should be covered by Almond oil and waited for some minutes to get absorbed. It is easy to adapt this method at every time. After using 10 – 14 days, you will see the better nails that you would have.
If you want to get good benefit, you are able to use Almond oil 1 – 2 times/ week.