Buying a massage chair is a tricky thing. First, few people privately own them. And most owners are businesses selling a recreational service. Also, they're quite expensive. A massage chair can cost you anywhere from $700 to $3000… And some models even go up to $9000! So you have to pick your chair wisely. And this is something we'll help you with. Below is a 10-Step guide to buying a massage chair. We'll discuss specs, features, and what to seek!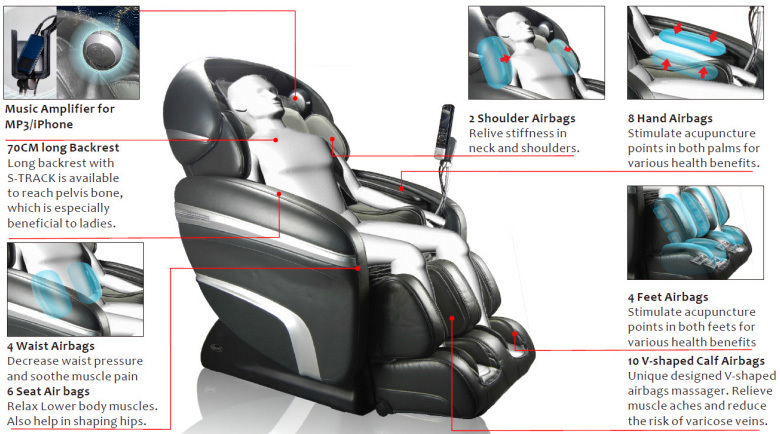 #1 – Basics.
A massage chair is basically a luxury sofa – with special services.
Those services vary from one model to another. They include high-tech features, or simple comfort ones (like massage pre-programs, seat heating, etc.) We'll discuss each below. So to start off…
#2 – Track Types.
Tracks define the rollers in your massage chair.
So what's a roller? This is "the spine" of the chair, where your back lays.
There are 3 types of tracks. Those being…
         

S – Track.

         

L – Track.

         

SL – Track.
S – Track.
This is what most people look for if they emphasize the massage feature. An S – Track roller molds itself to your back. It conforms to your spinal posture, while slowly improving it as you use the chair… So it's extremely comfortable.
L – Track.
Those rollers don't conform to your back. They're straight, just like the shape of a mattress. However, the roller does extend farther down an S – Track. An L – Track covers your back, buttocks, and thighs. So the massaging effect works for your entire body, and not just the back!
SL – Track.
This is a hybrid of the previous two. And it combines their best features…Thus, you'll find that this type of chair is the most expensive. And it's commonly used by businesses, and less by private consumers. That is, unless you're rich…
#3 – Roller Numbers.
Your back is massaged using rollers. The previous point discussed their layout. But here, we'll look at their numbers…
Amount.
Depending on the model, you can get anywhere from 2 to 6.
2 is the most basic. Those are the cheaper (more affordable chairs)…
4 is the common value found in chairs $1500 - $3000 in price. Anything higher than that, and you're dealing with 6 rollers…
Significance.
The more rollers you have, the better the massage experience. Because now, you have more rollers working on your back. You have a meticulous massage for each sq. centimeter.
So it's a matter of quality. However, roller number isn't the only thing governing quality. After all, intensity matters too!
 #4 – Intensity Levels.
Almost all "effective" chairs have 5 intensity levels – at minimum. A chair that's lower than that isn't worth it. Because now, you're looking at extreme massage options… You want more control over the range. So pick chairs with 5+ roller options.
Model Variance.
In this aspect, there isn't much difference between normal and "expensive" models. They'll usually supply you 5-6 intensity options. And you select the ones that suit your tastes…However, there is a difference in a whole other field of settings. This being…
#5 – Special Programs.
Some massage chairs come "pre-programmed" to deliver a specific type of massage… Those again, are a trait of the more expensive ones. And the pre-programs installed differ from model to model.
Example.
Take a look at the Osaki OS Alpina Massage Chair.
This chair offers many pre-programs for different purposes. Including…
·         Senior mode (massage for old people).
·         Pain relief.
·         Yoga stretching.
There are many-many more.
However, note that you get those options in a "zero gravity" setting. And speaking of those…
#6 – The ZERO Gravity Option.
Basically, this is where the massage chair reclines back – putting your body in a horizontal position. So it turns into a bed of sorts. Only difference is, it's a position designed to minimize stress on your spine and joints.
But Why is it Named That?
Because that's position astronauts take when launching off on space missions. And they take that position to deal with gravity increases as they accelerate… which puts much stress on their bodies.
But is This Position Healthy?
Of course it is! It's common in many quality massage chairs. In fact, it's a staple feature to seek in any massage chair you buy. You see, a "zero gravity" position doesn't just relieve your back. But also, it improves your body's fluid circulation. It improves blood flow to your brain and upper body. And it also improves your lymphatic system's pressure. Also, it makes massage rollers more effective. Because now, gravity is at work pressing your spine onto the rollers… So you get a strong massage as you lay horizontally!
#7 – Head & Foot Options.
Massage chairs weren't just made for your back. They were also made to relax your neck, feet, and head. So you have to look at options for those, such as…
Rollers.
Yes, some models specify roller numbers for foot rests. Again, the more the better. And your feet needs those rollers, since their muscles are smaller, and need more stretching. As for the head, don't expect roller number stats. Instead, look at cushioning, and headrest adjust options.
Extensions.
Not all head and feet were created equal. Some people have longer legs (and/or bigger heads) than others. And for those, you need a way of extending space. So make sure you can find feet rest that are extendable. They should suit people all the way to 6ft. 5' (at minimum).
#8 – Heating/Air Options.
You know how modern car seats come with heating options – right? A massage chair should come with similar options too. After all, it's much more expensive than a car seat! And this heating is especially necessary for users in cold areas. Because what use is it trying to relax in a massage chair, if you're too cold to enjoy it?
Air Options.
This also matters with a massage chair. It provides more breathability to the user's skin. It ensures that the time spent on it won't lead to a sweat pool. Also, good air circulation ensures that the chair doesn't stink later. And it makes it easier to clean!
Applies to All Body Portions.
The last point discussed heads and feet. And we believe air circulation/heating matters there too… After all, warm feet and head lead to less heat loss. And circulation in this area ensures that there are no sweat problems too.
#9 – Extra Control Options.
The more, the better. You never know how controls can shape your experience. Especially with a massage chair, which is all about a custom luxury feel. 
Example.
How about remote control? It lets you easily adjust many of the previously mentioned options. You can adjust massage intensity, heating, positioning, and much more! It's a vital part of the experience. And you need a remote that's replaceable, and maximizes what you can adjust.
Key Tip.
Some of the high-end models provide LCD remotes. And this is useful, considering the sheer amount of factors to adjust, which is best manipulated through a touch screen. Be sure to look for those models. Because they make user experience much smoother.
More Control Options.
How about time control? Maybe you want your chair to stop after a certain amount of minutes… This is useful for people using the chair to sleep. You can let your chair rock you for a while. Afterwards, it'll switch off, putting you to sleep!
#10 – Guarantees.
This is the final step on a buyer's list. Here's the thing. If you're paying thousands of dollars for a chair, then you must protect your investment. And what's the best way to do so? It's through a long service guarantee, attested to by buyer reviews.
How Long?
At minimum, the guarantee should last 2 years. And this includes parts and labor. It means that the company should send you personnel to service your chair.
Quality Approval.
Check if the company you're buying from has a reputation for quality. Ensure that they ace regulations where you live. This includes product safety against accidents, electrocution, spillage, flammability, etc.
Final Tip – Check Reviews.
It's the best way to evaluate an expensive product. Look for reviews that breakdown user experience. They're the most genuine, and ones that describe the product to the detail. Also, look for negative stories. This'll pinpoint problems using the product. Compare multiple massage chairs, and buy the models that best suit your purpose!