Butterflies are indeed the most beautiful arthropod species. Someway they are associated with nature and beauty. Butterfly nail art is popular and gives an elegant finish to any get up for summer holidays, spring parties or even the most glamorous gatherings. Despite the fact that there are millions of other nail art ideas out there in the world, the butterfly nail art is distinguished due to its extreme relevance with nature and beauty. Moreover, it symbolizes the unique combination of sensitivity and glamor. Here is a step by step guide for your butterfly nails that you can create at home with minimal effort.
Comprehensive Decal Sticker Butterfly Nail Art:
Attaining the best butterfly nail art is not impossible at home now. You don't need to spend money for getting this glamorous design through a nail artist. Just buy yourself some common nail art tools and a few decal stickers of butterfly nail art.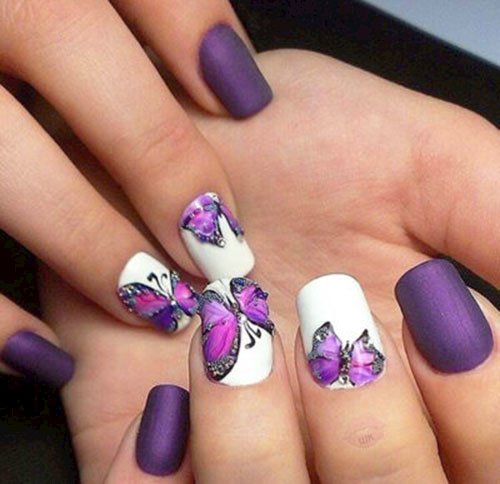 Steps to get Butterfly Nail Art:
         Use an alternate color base on nails to highlight the butterfly nail art.

         Put three coats to give a smooth finish.

         Dip four decal stickers in water for 20 minutes until the black outline is prominent.

         Carefully place the sticker on the nail.

         Decal stickers offer a quick replacement for complex designer art.

         Use some cotton swab or ear swab to mark purple and indigo dots in the mid.

         It will offer a natural feel to the butterfly wings.

         Use glitter with a toothpick to mark the boundary of butterfly wings.

         Finally, spray the water repellent spray to give a bright and shiny finish.
Here is your butterfly nail art ready and geared up to offer you the ultimate holiday look. The butterfly design can vary in butterfly shapes and colors. Choose your favoritecolor and shade for these tiny and delicate butterflies.