Nail art exhibits the unique and trendy fashion sense. Every festivity is marked with some finest and new nail art to relish the moment and create an everlasting fashion statement for you. Christmas is all about joy, fun, colors, and life. Many prominent things symbolize the Christmas festivity like Christmas tree, Santa, jingle bells, snowflakes, and gifts. But the most fantastic and lively feature of Christmas is the lights. Christmas lights are not only used to decorate the Christmas tree but also the exterior and interior of the house. These lights are the first and foremost indication of joy and sheer fun coming ahead. Depicting this brilliant feature of Christmas in the form of Christmas lights nail art is indeed unique and very fascinating. 
This simple yet exquisite nail art can mark your Christmas with unforgettable memories and style that will be hard to ignore. It is delicate, trouble free and very easy to adopt. With only a few nail art brushes and a smooth hand, you can achieve this beautiful nail art at your home without seeking the services of professionals.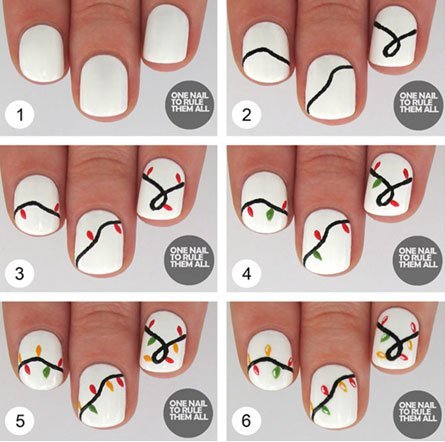 STEPS:
         Use white nail paint as the base of your nail art.

         Use a thicker brush to achieve a smooth coat.

         Use a thin paint brush and draw a random line across the width of the nail.

         The similarthin brush is then dipped in bright nail colors like red, green, blue and yellow to make tiny ovular lights across the black line.

         Vary the shape of the line by inserting a few loops and breaks.

         Spray the water repellent to complete the fine finish.
This nail art is meant to provide you the extravagant Christmas looks with gorgeous nails. It's a freehand design with no complex figures and drawings involved. Just feel free to add modifications in colors and shapes of the lights according to your taste.