Fourth of July not only marks the independence day of USA but also a resounding signal of summer celebration around the country. There are millions of designs of mesmerizing nail art to perfectly execute fashion and patriotism all in one. The striking designs from red, blue and white colors are unmatchable in elegance and bravura. Browse the internet, and you will end up finding thousands of elegant designs to mark your independence day with modern style. From carving the perfect American flag, the independence stripes, every independence nail art is here to depict the real emotions of independence of a great nation.
Flag Nail Art:
Flag nail art is typical, yet it never stops inspiring the patriotic feelings in everyone. This nail art is a must to celebrate independence with style and elegance. Creating a flag on a tiny nail seems impossible, but our step by step guide is sure to solve your problem. Just keep it simple with few stars or only add white dots in the blue area followed by red and white waves.  It will give you a perfect depiction of the national flag.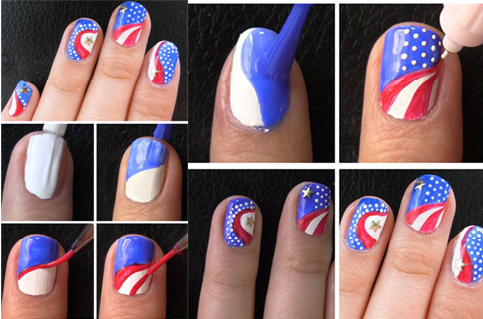 Choose bright red, blue and white colored nail paints.

         Use the white color to coat the base thoroughly.

         Put two or three coats to ensure smoothness.

         Use blue nail paint to cover the half of the nail in a waveform as shown in the image.

         Other half is marked with red stripes using an ultra-thin nail paint brush.

         Use thin brush or toothpick to put white dots on blue area.

         The addition of glitter in the end, will add an excellent finish to this fantastic patriotic nail art.
Celebrating Independence Day with a cool nail art that not only lets your relish the patriotic emotions but also lend you style in the heat of summer is one brilliant idea. Select your favorite nail art and kick start the Independence Day celebration with perfect looks.