Best 5 Massage Chairs Under $5000
• Includes 3 year manufacturer warranty

• L-Track Massage Function

• Zero Gravity 

• Computer Body Scan

• Ankle Knobs

• 5 Preset Programs

• Heat

• Full Range Foot Rollers

• Space Saving Chair 

• Includes 3 year manufacturer warranty

• Zero Gravity

• L-Track Roller Design

• Calf Roller & Kneading Massage

• Unique Foot Roller

• Bluetooth Connection for Speaker

• Space Saving Design

• Backrest Scanning

• 6 Unique Auto-programs

• 6 Massage Styles

• Includes 3 year manufacturer warranty

• S & L-Track

• Hip Air Massage

• 12 Unique Auto-programs

• 5 Levels of Speed, Strength & Intensity

• Foot roller

• LED Chromo

• Zero Gravity

• Includes 3 Year Manufacturer Warranty 

• 3D Massage

• Shiatsu Point Locator

• Remote

• Self-Adjusting Headrest

• Full Arm Massage

• Targeted Calf and Anterior Shin Massage

• Reengineered Rollers

• Includes 5 Year Manufacturer Warranty

• Two Zero Gravity Positions 

• Tru-Grip V Stretch

• Spinal Correction?

• Accu-Roll Shoulder Massage

• Lumbar Heat
Best 5 Massage Chairs Over $5000
• Includes 3 year manufacturer warranty

• Made in Japan

• L-Track Massage Function

• 4D roller

• Computer Body Scan

• Ankle Knobs

• 12 Preset Programs

• Heat

• Full Range Foot Rollers

• Space Saving Chair 

• 64 air bags

• Includes 3 year manufacturer warranty

• Zero Gravity

• Zero Wall

• Heating

• S & L Frame

• 11 customized massage modes

• Auto Leg Adjust

• Shoulder Airbag Massage

• Ergonomic Hand Massage

• Bluetooth Connectivity

• 35 Auto-Wellness Programs

• Extending Foot and Calf Massage

• Dual Lumbar Heat?

• Flex 3D Massage Technology?

• Cloud Touch Acupressure

• Zero Gravity Massage

• Full Body Stretch

• Unibody Track

• Space-Saving Design

• Downloadable App

• 3 year warranty

• Made in the USA

• 3D Massage

• Advanced bottom foot massager with doubled rollers 

• Full body heat (feet, seat, and back)?

• Zero Gravity

• 9 automatic and limitless manual customizable programs

• 100 air bags

• UL, FDA listed

• 3 year warranty

• 3D Massage

• Shiatsu Point Locator

• Full Upper Body Massage

• Infrared Back and Seat Heat

• Hip and Thigh Massage

• Calf, Foot and Sole Massage

• Youth Session

• 100 air bags

• Made in Japan

 
Buying a new massage chair? If so, keep reading…
Massage chairs are expensive furniture items. You pay anywhere from $500 to $9000 just to buy a piece…
And depending on your needs, you might need more than one.
Plus, good massage chairs (that last) are often pricey. You'll need at least $3000 for a decent chair!
Basically.
You've got to pick your chairs wisely. After all, this is a purchase you make once every few years…
Today, we'll help you with that. We have the "top 10" massage chairs to buy in 2019.
Check them all out, and pick what suits you best!
 _______________________________
#1 – Inada DreamWave.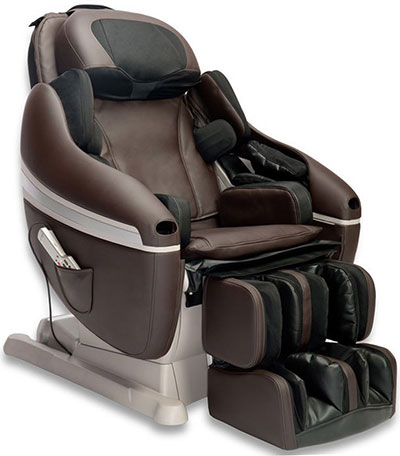 We're starting off with a pricey chair – costing about $9000. In the massage chair market, this is a "high end" model. It's geared for a luxury audience, and this is who the chair suits best!
Specs.
It's a highly padded chair, providing extra comfort for the shoulders, head, and arms. Speaking of those, this chair provides upper shoulder massages. So it's the perfect model for fixing posture problems! Plus, it comes with 3D roller technology. So the rollers have diverse motion. And, combined with "Inada's Dreamwave tech," you get accurate muscle targeting!
Additional Vibrations.
Sometimes, "push massages" may not be what you want…Maybe you're look for something smoother, like a whole body vibration. If that's the case, the Inada chair can provide to you!This vibration mechanism is located in the seat and back. And you can use it to de-stress, or to get a quick nap!
Value.
This chair comes with a 3-Year Limited Warranty. It also comes with a 5-Year Service Warranty for home fixes! And you need that in a $9000 chair. After all, you're practically paying for a "small car." So you need a deal that protects your investment!
  _______________________________
#2 – Bodyfriend Phantom.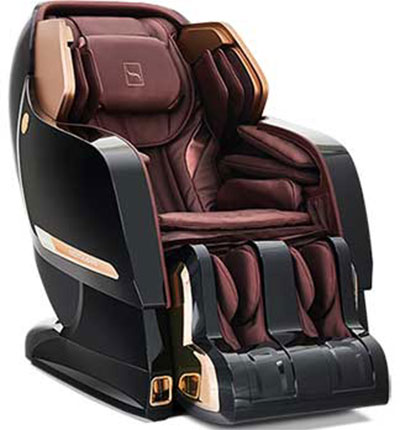 Maybe $9000 is too much for you. Maybe you want "luxury chair," and for a slightly smaller price tag. In that case, this chair works. It's $7200, and it comes with features that rival (if not surpass) the previous options!
Specs.
This chair has an "SL Roller Track." So it's designed to massage your entire back. This chair can even massage your thighs, buttocks, and lower legs! Plus, it provides "hand massages" too!
Target Market.
Another feature is the weight and height limits of this chair. This chair suits those up to 265 lbs. And it also works for people up to 6ft. 3' in height. So it's designed for a wide market. And this means tall and obese people can use it too!
Comfort.
This chair is heavily padded. You get airbags all over, even at the shoulders, letting you relax your posture! So it's designed for a holistic experience and a "top quality" massage. And it's one we highly recommend!
Heating.
This chair provides full body heating. And the temperature goes all the way to 140°F (60°C). And don't worry, you're not directly exposed to the heat source. The chair itself is, so you get a little delivered… However, this feature is excellent for those in "ice cold" environments. So if you need a powerful heater, this is the model to get!
_______________________________

#3 – Luraco i7 Plus.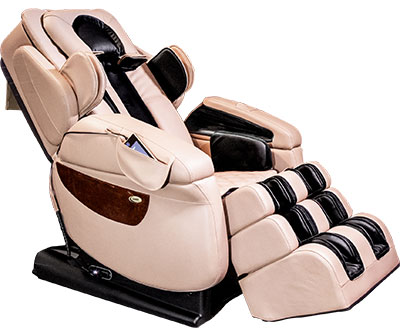 If you need a direct competitor with the INADA chair, then try this. The Luraco i7 also costs $9000. However, this chair is "Made in USA," so you can guarantee that it's quality!
Why?
Well, consider that most chairs are made in China – even ones with a "Japanese" brand name. The Luraco i7 is different. You get full disclosure on where the parts are made (some in the US, others in Taiwan). So you can evaluate what may require quick maintenance. You can also evaluate whether the manufacturing standards are worth it!
Touch Screen Remote.
It's probably this chair's most unique feature. The electronic remote is like a smartphone for this chair. You get "many" options on how to customize your experience! You can accurately adjust seat heating, massage type – and even monitor your blood pressure and heart rate! That's right – this chair comes with medical options. So it's suitable for the sick too!
Maximum Comfort.
This chair comes with a music system – so you can enjoy some tunes while using it! Plus, the massage provided is air compression based. So it's suitable to those with "fragile bodies" or "injured postures." Through this chair, you'll get a specialized medical massage that few others provide!
 _______________________________
#4 – JPMedics Kumo.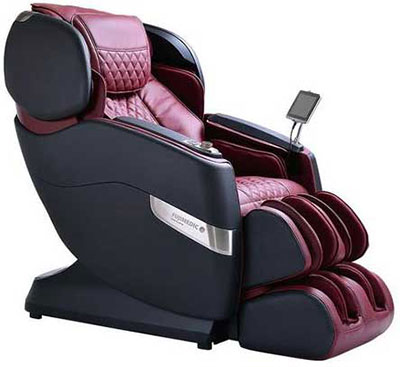 As if the other options weren't enough – here's another top quality chair. Again, it's $9999, but it's one of the best. 
The JPMedics Kumo Massage Chair is a Japanese made massage chair with 4D massage roller with a 44-inch L-Track. Unlike most Japanese massage chairs, The Kumo also features Zero Gravity Recline and Reflexology Foot Rollers. Combined with expertly choreographed massage programming, heated knee therapy, and touchscreen tablet design for easy access to massage functions and adjustments.
Roller Technology.
The previous chairs use 3D. But this one uses 4D! This is the latest form of massage chair technology. It allows the rollers on this chair to "rotate," accurately targeting specific muscle fibers. You can actually get customized "pressures" per roller. And it makes this chair perfect for true seekers of luxury!
Special Heat Therapy.
Most massage chairs simply use heated tracks. But the Kumo "concentrates the heat" in the rollers! And it does so too at the legs – specifically the knees. This allows the chair to deliver "warmth to your knees"! So it's excellent for individuals with knee issues – which may get worse in cold environments. Through this chair, you can keep your joints in check. You ensure more comfort walking, and better tendon health!
 _______________________________

#5 – Osaki OS Pro Alpina.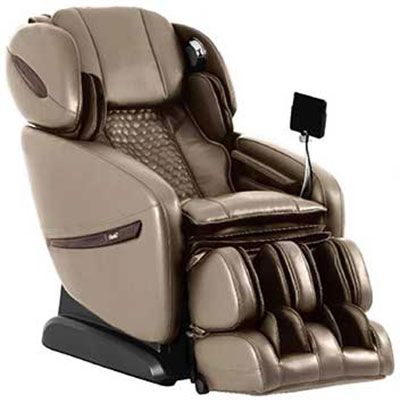 Maybe the previous options are too expensive for you. If so, try this chair. It is $4300 – at least ½ the price of the INADA and Luraco models. And its features do not disappoint!
Specs.
This chair combines S and L tracks, similar to the "Bodyfriend Phantom." So you get a fully body massage. Add to that the maximized comfort. It comes with 22 airbags, which is an outstanding number for a chair! Plus, it takes the best features of the "Luraco" model too. This chair comes with a touch screen remote, giving you hundreds of customization options!
• S & L-Track
• Hip Air Massage
• 12 Unique Auto-programs
• 5 Levels of Speed, Strength & Intensity
• Foot roller
• LED Chromo
• Zero Gravity
Special Feature – Body Scan.
That's right, this chair analyzes and maps your body before messaging. This allows the rollers to accurately target and hit the tensest muscles in your back. And this provides immediate relief to trouble spots! Plus, this chair has "ache sensors." So in addition to the scan it does, it can find and deal with painful tensions in your body!
 _______________________________
#6 – Osaki OS-Pro Omni.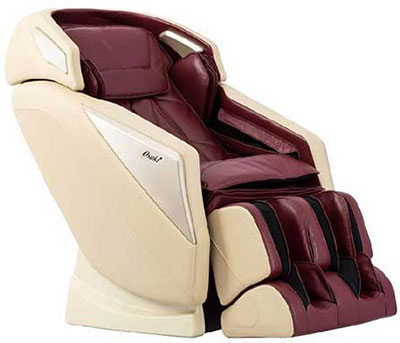 We're not done with the Osaki chairs. It's a good brand, and this is another worth mentioning. This model costs $3500. And this makes it $800 cheaper than the Alpina. But no worries, this chair doesn't fail. It's a budget model with excellent specs that make it worth a purchase!
Specs.
Just like the Alpina, this chair has a body scan feature. However, it's only an L-Track. So it lacks the "SL Hybrid" of the Alpina model…Nevertheless, the track is 50 inches long. So it's longer than some of the luxury models on this list! Plus, this chair comes with seat heating too! So you can use this chair effectively, and in colder environments!
Remote Control.
While the Alpina has a touch screen remote, this version comes with a "physical one." But this isn't much of a problem. After all, this chair does come with many automatic programs, and many "options" to shuffle through So in terms of custom experiences, it's good for its price!
Special Footcare.
This chair comes with an adjustable footrest. You can push it out, making it accommodate tall people! Plus, the footrest has reflexology rollers which simulate "acupuncture massages." And it combines that with air bags, providing maximum foot relaxation!
 _______________________________

#7 – Infinity IT 8500.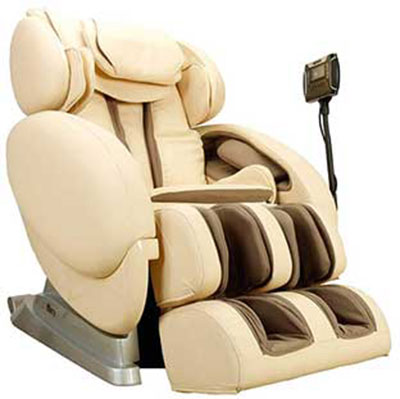 This is a $5000 chair. That's not too expensive for quality. And it makes this chair a suitable candidate for our list!
The Infinity IT-8500 is a world apart with its state-of-the-art features and techniques. This deluxe massage chair suits a wide variety of people with its customizable and targeted massage. Escape to your personal paradise through the chair's speaker system. Other top features include lumbar heat, a body scan sensor system, rejuvenating foot rollers, and spinal correction. The IT-8500 delivers accurate, personalized relaxation with every massage.
The Infinity IT-8500 massage chair can also help to correct your posture with each massage session through their Tru-Grip V Stretch. This Spinal Correction is modeled after Thai stretching techniques and uses a combination of the hip, seat, and back airbags paired up with the massage roller to stretch and relieve tension in your back.
Features.
This chair comes with an "S Track." This makes it adjustable to your spine. So if you have "posture problems" that need straightening out, try this! It works for people with sensitive backs. So it suits older individuals specifically! And that's not all. This chair has a "Tru-Grip V Stretch." This chair technology provides spinal cord correction, and tension relief too!
Multi-Accommodation.
Whether you be tall or short, this chair does you solid. First, this chair suits those from 5ft. 1' to 6ft. 4'. And that's because you adjust the track length for your body! Plus, this chair is designed to fit "very overweight" people. It can accommodate people up to 325 lbs.! So if you're out of range in height or weight, this chair is a good match!
 _______________________________

#8 – Human Touch Novo XT2.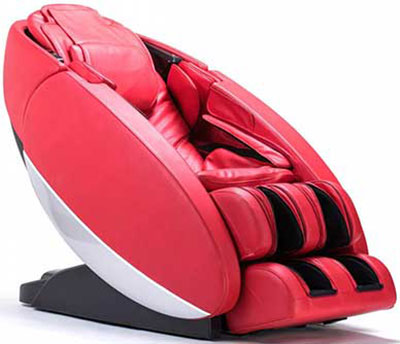 Back to expensive chairs again. This model is $8000 in price. However, the aesthetics of it make it worth the price (plus the obvious features)...Without joking, this chair looks like a "futuristic bean bag" – with its circular design and its deep seating! But, that's part of what makes it awesome. After all…
Unibody L-Track.
It's probably this chair's most unique feature. This L-Track is designed meticulously for maximum back coverage. That is, it covers 60% more than average chairs do! So the massage you receive is intense, with properly distributed pressure across your back! Beyond the unique track, this chair uses 3D roller technology. So it's advanced enough in its roller controls, considering the price tag.
Stretches and Extensions.
This chair is designed for "posture control." You have a full body stretch feature. It makes this chair adaptable to all types of backs… Also, the footrest is extendable. You can adjust it for both smaller and larger legs – thus maximizing comfort! And let's not forget the ZERO gravity feature. While this is available in most massage chairs, it's absolutely necessary here, and it does exist! After all, what use is it having many "position customizations" when you can't lay back for a nap?
 _______________________________
#9 – Cozzia CZ 629.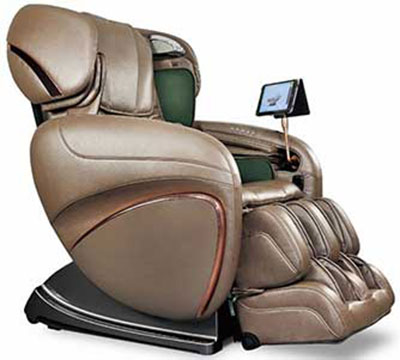 This is a $6000 chair. It provides many functions similar to chairs in its price range. For starters, it has 3D roller technology, while using an S-Track for spinal support. However, this chair has some "unique features" of its own – making it worth consideration!
Such As?
How about the remote control? You actually get a "touch screen tablet". And this feature lets you control dozens of factors in your experience. With it – you have thousands of ways to customize the Cozzia's use!
Another Feature.
This chair comes with software updates. In fact, you can get a special app for this chair that lets you download them. This means you can download "new automatic massage" sequences! So you can have someone else design your massage. And all you do is download that to your chair!
Custom Profiles.
Many massage chairs have memory programs. But this one takes it to the next level. With Cozzia, you can save your body profile as part of the program! You can record your age, height, and weight, and the chair will adapt itself to you from there!
 _______________________________
10 – Titan TP-Pro 8400.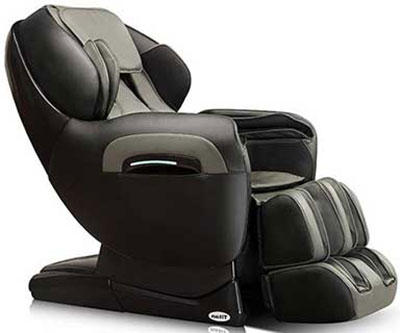 The last option on our list – you can get it for $2495. This makes it the cheapest. In fact, it's multiple times cheaper than most model we've mentioned!
But it deserves a mention for many reasons… Specifically, it brings some of the "best features" in previous chairs, and with the low price tag!
L – Track.
Most chair with L-track is over $4000
This chair is different. It is a L-track with 50" roller length. So it can "adjust to your back," while massaging its entire length! Thus, it doesn't just deal with the back. It also massages your "upper" and "lower" legs!
Simplicity.
Maybe customization isn't what you seek.You might want a chair that's simple in controls. If so, try the Kahuna, which provides a "simple remote" for option toggling! And finally, let's not forget the basic features needed in any proper massage chair. This model comes with seat heating, padded arm and headrests – and rollers for foot massages!